Newsletter Jan-08

Happy New Year 2008!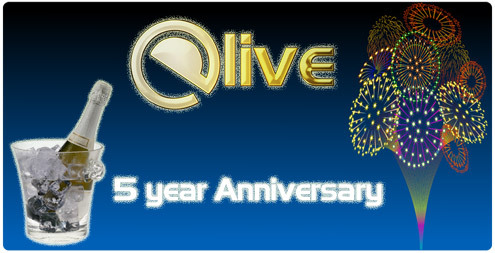 and Happy Birthday Elive!
Contents:
Happy New 2008 and Elive Plans
Happy Birthday Elive
Elive Shop
Happy New 2008 and Elive Plans
Happy 2008!, we wish you a great and fruitful coming year!
There are many news coming with the new year for Elive.
Also if you see very little movement on this website, that's because Thanatermesis is working hard on the development of Elive for the next versions, he has many ambitious plans:
Elive will be separated into 3 versions now, two will be based on Debian Testing in order to have many updated applications and happy users!
A new e17 (actually semi-implemented), and better integration and more userfriendly. More stuff working out of the box
A complete rewrite of the wifi support
A complete rewrite of the livecd-system
An updated new kernel (actually semi-implemented)
Many features that we want to implement like suspend/hibernation, and a lot more that we don't want to say because we like the element of surprise !!
Happy Birthday Elive !!!
Elive is 5 years old
. We have decided to count the age of Elive from the
real
development instead of the releases with the name "Elive". The first system made was a livecd called
Tezcatlipotix
based on Knoppix 3.1 lite. A desktop livecd for personal use with Enlightenment in the same spirit as Elive. After that, the decision to make this system for the public was made. The name was changed to Elive and a project was then hosted on debianitas.net, which soon switched to it's own server and project.
We decided to tell you this to clarify the path that lead up to Elive 1.0
Gem
. Thanatermesis is a careful developer determined to make a REALLY good system, not just to release security updates every month. He thinks that
"doing it right"
is better than
"doing it fast"
. Here is a summary of the Elive releases:
0.1: The first test, based on Knoppix, not to be considered stable at all, but 'just working'.
0.2: Problems fixed after reports and experiences, still just a development and working version.
0.3: This version can be considered the first stable version, the base system also switched from Knoppix to Morphix.
0.4: Called Serenity, where Elive switched from Morphix to DSS.
0.4.2: A second release of Serenity, with some problems fixed like important bugs on our very beloved ATI drivers (ironic)
0.5: A milestone release, called Revolution
0.6: Next Elive release, called Revolution+ (Thanatermesis loved this name and didn't want to change it)
1.0: The luxurious Gem release! The users said the 0.6.7 release was good enough for 1.0...and... it was!
2.0: Our next stable release :) With an updated kernel, with the base system moved to Debian Testing (yes, Thanatermesis is working hard to switch to Debian testing and have our requested updated applications!). New features: updated Enlightenment 17 with shelves and all the other improvements. The system will be switched from DSS to a script set designed by Thanatermesis!
Elive Shop
Some of our users have asked us
where to get
the "Stayin' Elive T-shirt" seen on
this video
, and we decided to give the users some nice Elive apparel and we have
opened a Shop
at CafePress. (if you know other better or cheaper service, tell us!) We are looking and making better eyecandy designs to make a good competetition to Armani and Versace :P, if you are a good designer, you are welcome to send us a good design idea for a t-shirt or other thing to

. This is your chance to make the Elive tshirt you always dreamed about! :)
Big thanks to
roxville
and
assasukasse
to help to setting this shop up !
"If It Ain't Rockin', It Ain't Elive!"