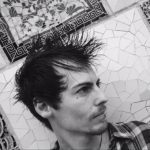 Samuel F. Baggen
'Thanatermesis'
35 Years old
Linux Professional
and UX Designer

Founder and Developer
I'm the founder and main developer of Elive, the first version appeared around 2002 in a very geeky fashion, but the first public version of Elive didn't appeared until 2005. I still actively developing Elive and I would like to make it greater everyday, I have a thousand of ideas that I would like to include on it but my human condition doesn't allow me to reach all of them, I can define myself like a visionary or dreamer, where limits on my imagination doesn't exist but the possibilities in the real world can even frustrate me when realizing them.
My life's purpose is to make this a better world, actually I'm doing it by providing with Elive a reliable alternative to other operating systems, which is much faster, light and more intuitive.
My job in Elive is undefined, where I'm charged of everything like developing, customizing or automating, I also spend a good amount of time brainstorming an optimal user-experience by bringing new ideas and ways of use computers.
Please use the Forums instead of contacting me via email, unless is very specific or needed
Thomas Deon
'PrinceAMD'
28 Years Old

PHP and C
Programmer

Programmer
Deon is a very good programmer which helped a lot in Elive in misc sides, he was able to improve the Enlightenment desktop for the specific Elive purposes and was also able to make the website of Elive to work internally in functions and plugins that was required, his collaboration in misc things is too big to list all of them.
He still collaborating from time to time in the Elive development but he's busy in a better payed work that I cannot afford, so please send him a big thanks to motivate him to not forget this nice project! :)
Special Thanks to:
Chris 'roxville' Tidestrom: For his long support and help in the Elive development, and its lot of works on designs, elive release boxes, icons, wallpapers, etc
David 'LinuxNIT' Braker: For the application net-connector which was able to make the Topaz versions to have a really nice internet configurator, and also for the samba tools that we still use today.
Josef 'cornelius' Vybiral: For the old and nice bootsplash and boot menus
Frédéric 'Johnthefisherman' Boehler: For his amazing designs of the future elpanel and Elive CD covers.
Duvel Root 'duvelr': For his incredible night-theme design for Enlightnement that we had in Topaz and Gem
Manuel 'bentejuy' Lopez: For his amazing dedication and good quality work on the old website creating unique plugins in the times where the web effects were not known, integration of the E website theme and some C works
Dagneaux 'ikevin' Kevin: For his help in the servers side, email configuration and long mirroring of Elive
RuudKuin: For his amazing idea and development of the Elive logo design
Alexandre 'pr0t0cod7' Dhaussy: For his translations to french and site maintainer, but also for its very nice imagination in edje theming and E experiments
Andrew 'HandyAndE' Williams: For the old CMS provider based in XSM
Blake 'shadoi' Barnett: For its very early help in domain and server setup
Tim 'GPLGeek' Woods: For the lots of betatesting and users support
Issam 'SinPlomo' Kastite: For his misc collaboration and users support
T. 'Get' N.Ristow: For the gamming support and mirror help
People who did Mirroring:
Active Mirrors:
Paul BOREL (printaplus.ddns.net) – Paris, France
Yebyen / Kingdon (nerdland.info) – New York, USA
Unactive Mirrors:
Antonie Boegler (evryanz)
Seablade (leviathan-avc)
Jean-Baptiste (jumbef.net)
Jason Edson (oceighty)
Stefan Meissner (jdf4you.org)
Sasin (mwow.dk)
MrSandman (cmhacks)
Ikevin (icedslash)
Ricardo Fuentes (jirah.org)
Thomas Vecchione (seablade)
Wizard (7ds)
St Louis (Retro)
Valášek Radek (valinbsd.org)
Dr. Baloch (infosys gateway malaysia)
Enlightenment FR
And also the LOT of translator volunteers:
2zzyQ – russian
Agust
ailtonribeiro
Airon90 – Italian, Esperanto, English
AL3X – Spanish
alaidn – catalan
albertogalan – Spanish
AlexAnteMachina – German
alexvalerot – spanish
alialda – The Czech republic
allinred – russian
alokkin – French
altoproxima – Dutch
alucarde – french, english
amal
amgchile – spanish
amid88
anabell – en, es
anka – sv,en
aorzh
ArgiWhomp
arielmoras
ArnicA – french
arttor – el
arxrobert
Arzakon – ca, es
assasukasse – Italian
asuarez – Spanish
awolters – dutch
babel – spanish / english
barravince – Italian
barsah
batden – French, English
beefreak – hungarian, german,
Bellovux – Dutch (Belgian)
Bety-Jane – spanish
bigjimlefou – French
bluegreen
bluez – Turkish, English
Bodan
borislavbog – Bulgarian
bouba – italian
brucs7 – pt
bryanstein – untarzanic
Bubblez – Ukrainian, Russian
Caio
cbrunos – french portuguese luxemburgish
cenobyte – Dutch
CharlesD
chiropter – French/english
ChrisPZV – German
cicujano – spanish
Clavius – Spanish, Catalan, French, English
clever_fox – czech
clint – English
clkent – Spanish
cnfss – Spanish
conny – czech
conrado – spanish
CoolNile – Arabic
CrankHunt3r – German, Romanian
CrazyDiam – Ukrainian
cruncx – pt
csoliss – Spanish
curielapolonio
Cyberponcho – Spanish, english, german
cycloneous
Cyriaque – french, anglais
cyrinda – Czech
d3fstyle
dader
daleduro
dammitjim – Spanish
dan1971 – spanish
danibors – portuguese (brazilian)
Daniel Nunes – portuguese
danielmelek – spanish
danny
dannyet
dante_r – spanish
DaRtHo – spanish, english
DaveLinux – spanish
david312
DcomFive
debior – hebrew
Deepoff – russian
Demishrike
deuxcroix – Romanian
divayht – french, english
djfox18921 – english,french
doberdog – Spanish, Galego
DomBoo – fr
domingo
donbis88
donlujah – Spanish Galician
Drogenfander – German English
duendenokturno
Dujicb – Croatian, Bosnian, Serbian
dustmite
dutrinha
earl31515 – de
Eddy Marley – Portuguese
Ederxnight
EgorI
eight.bit.al
eladamri
eliel – Portuguese (br)
eliverling – en to german
elmo40 – English
emilio1625 – Spanish,
emperor.cu – spanish english
eno1997 – english
Erick Rangel Gomes
esthebanmx – spanish
Etern4L – Greek, English, French
etherea – italian
everspawn – English (few ES)
evryanz – French, Russian, English.
fatman2021
FenDanT – French
fermza87 – Spanish
FlameRage – Russsian
ford
franlou – french
Frombenny – French
fservin – spanish, english
G104acch1n0 – Italian
g3vi3s – spansih
gabak – spanish
Gajilidd – French
gargouille
gasimov – rus
gasp
gatsss – French
gEhektr – Spanish(Mexico)
genaro – sv
genetik – Czech
gherardo – Spanish
Ghermain – Spanish
gl0ubi – french
Gnea
goldstein – portuguese
GPLGeek – english clean
Gran_Ger – spanish
gs – English German
guardian – CS, EN
hacalvo – spanish
harpi – fi
henaaque – Portuguese and English
hendrick – hungarian
hermit – english clean
horace
hritshiv
Hutch
hutchint
i027_1
iaemy – French
ibit – Russian
Ifree – English, Spanish, Catalan
infomdq
Jackho – french
Jagan – Italian
jakub07
Janarts
jappe – dutch,english
jaredlyvers – English
Jarth – NL
javier – spanish
javimore
jaycreation – français
jbarrales – spanish
jdackle – pt, pt-PT, fr, fr-ch, en, en-GB, en-US
jeanlou – French
jedidyah – English/Spanish
jeongmin – korean
jizo – Russian
JML-00 – Spanish
joelh – French / English
johnnyp – de en
Jon
jorgepsg
josemrm – Spanish
juanjgm – spanish
jundai69
jviotti – Spanish
JWB – nl en
jwilli2 – Danish
jwolfe – English
jykae – Finnish
jyvertone – Finnish
kapseltomasz – poland
kasper
kernic – catalan
kero – Catalan
Ketteske
kevin-g – Spanish
kevin – fr
kevinTest – French
Khyron-Angel
Khyron – English – Spanish
Kido – Russian
kirans
klode
kook – czech
Koshie – French
lagutenkovsergei
LAISNE – French
leoechevarria – Spanish
letiponebu – russian
lewiscowles – English
linguo – Spanish
Lo-Ko – Ingles
Logos – French / English
loiso2 – spanish
Lord_JABA – Polish
Lork Scorguar – fr
LSc
ltitcon – france
LuC – Polish/Polski
luciano – spanish
Lud – Spanish
ludwig – French
m-m – Portuguese
madom – slovak
MadPsych – English
manou – Spanish
marcomatt
marcoornes – spanish
marinho – pt_BR
mariuccio – italian
marko – English
marschmidt – Portuguese – BR
marta – lv (latvia)
marteo – fr (birth language), ge (very good)
Martin_Mantaras – Spanish
matryc – Polish
mattosoft – Italian, Spanish, Brazilian Portughese
mauricioruso – spanish
maury – italian
maxann – russian
ME3Tmou – German
MEETmou – German
Megashadow – spanish
mehdi
meph – English, German
Mermouy – french
michael_mt90 – Romanian
miguelsoare – portugues
mique – Italian, English
mistrynitesh – English, Hindi, Gujarati, Marathi
mmantaras – Spanish
mobydick964 – french
mohdshakeel77
Moohten – german
Mozart – Swedish, English
MultiUser
n_ones – Spanish / English
Naflgar – Spanish
nando
napi – spanish
Neo3
ngayegsm10
nicouy – english spanish
nicram – polish
Niels – dutch
npiccone – English
nukaway – spanish/valencian
nymunariya – German
o6s
oalarcon – Spanish
ohare
orascic – english, serbian
Orion – portuguese (brazilian)
oucinde – Spanish / English
Pako – spanish
paola.i
Pat
Peerke – Dutch
pehuenche – Spanish
penknife – Polish
pescaico
peter.m. – German
pichifrias – spanish
pime01
piroman – english
Pkora – Croatian
plasma – German
popmircea – Romanian
Prars
princeamd
pvamshi – telugu
quandra – Nederlands
qwerewq – Lithuanian
r1to – slovenian
rabo
ragecryx – el
ragpicker – English, Bengali
Ramon – English (spanish?)
Raven29 – russian
raven – English
rawrow – Russian
Reaper421
rebbi – English cleanup
redkom – Spanish
reglero – spanish
renesejer – Danish
reventao – spanish
rexxitall – german english
richard galin – spanish
richluis – Tagalog, English, Spanish
ridnix – german
robertu – Spanish
roger82 – Catalan
roger_ramjet
RoundQube
Ruidoso_Silencio – spanish
salamancaluis – spanol
samp3ri – Finnish, English
sandrotales – portugues
sarditia – Bulgarian
satz
savone – romanian
scc
seacat-es – Spanish
selasforos – Greek, English
selezian – Russian
shadowvice – English
Shaihul
she_dyed – English
Sigmun – French
silinux
sinbad75 – Spanish
Sivernetico
skate1968 – en
Slayer – German
Smokingpanda
Smolka-Spec – english, russian
sniff – Portugues-Brazil (PT-BR)
Sofokl – ru
sprint955 – Dutch, Flemish
starfucker – Spanish
stark – Italian
stefan – Dutch
Stes – Italian
stream13 – Russian, Ukrainian
sumluc – English
sutanejo
sutee84 – hungarian
swimming – English to Spanish
talus46
tefalus – english
the_gizzle
theice – Russian
thepoki25782 – spanish
thequestion – french
Thybo – Spanish / English
ti8263
tiloubrunet – French
tiorody – English / Portuguese
tonyvstime – spanish
Trivious – English
trivious – English
trog – romanian
trompeteandos – spanish
trueno – spanish (latin)
Tsalagi – English, Spanish, French, Italian, Portuguese
ucma – Danish
ulisesmmf
valenticz – sl
valsinats – English, Russian, Ukraine
vanslavich
vektorman – Bulgarian
vicodiaz
Vicophine
vienna
vitich – Russian, Ukrainian
vocin
Vorgen – English
vtorri – none
wasynyt – English
while0 – German
Wilbur289 – English
Wizard – polish
wolf_man89 – French, english
worsecat – spanish, english
wubles – english afrikaans
wuolfit – Italian
wuto – English, spanish
XayOn – Spanish
xenomorfo – spanish
XGaryG
xGaryG – en
xirux
xthakila – Indi
xtylz
yebyen
yihanpiaojian – zh
yupal – Romanian
yurick – Russian
z3d0 – Italian / French
Zell_89 – Italiano
Zewok – English, French
Zie Thoringi – german
ziold – French
zipotron – Spanish, Arabic
Zord
zuhataslan – swedish, turkish